Bacon-Wrapped Pork Tenderloin Medallions
Ingredients
12-14 slices bacon (1 slice for each pork medallion)
2 pork tenderloins (1 to 1¼ pounds each), trimmed of fat and silver skin, cut crosswise into 1½-inch pieces; thinner end pieces scored and folded
Kosher salt and ground black pepper
2 tablespoons vegetable oil
Directions
1. Place bacon slices, slightly overlapping, in microwave-safe pie plate and cover with plastic wrap. Cook in microwave on high power until slices shrink and release about 1/2 cup fat but are neither browned nor crisp, 1 to 3 minutes. Transfer bacon to paper towels until cool, 2 to 3 minutes.
2. Wrap each piece of pork with 1 slice bacon and secure with 2 toothpicks where ends of bacon strip overlap, inserting toothpicks on angle and gently pushing them through to other side.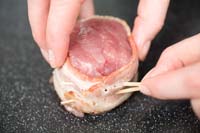 3. Season pork with pepper. Heat oil in 12-inch skillet over medium-high heat until shimmering. Add pork cut side down and cook, without moving pieces, until well-browned, 3 to 5 minutes. Turn pork and brown on second side, 3 to 5 minutes more. Reduce heat to medium. Using tongs, stand each piece on its side and cook, turning pieces as necessary, until sides are well browned and internal temperature registers 145 to 150 degrees on instant-read thermometer, 8 to 14 minutes. Transfer pork to platter and tent lightly with foil; let rest 5 minutes, then serve.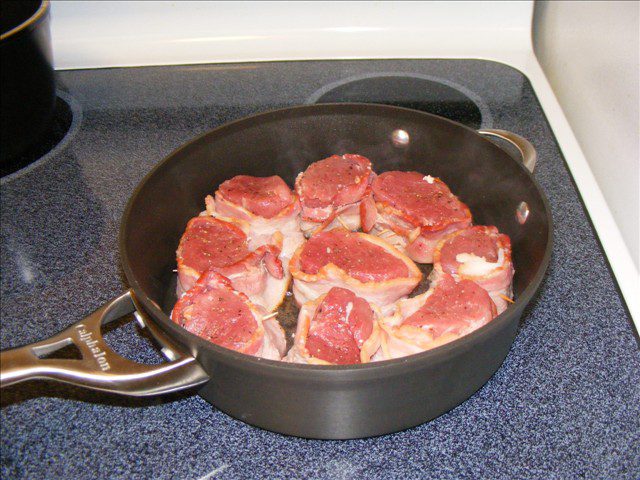 Maple-Mustard Sauce
Makes enough to sauce 2 pork tenderloins
Ingredients
2 teaspoons vegetable oil
1 medium onion , halved and sliced thin (about 1 cup)
1 cup low-sodium chicken broth
1/3 cup maple syrup
3 tablespoons balsamic vinegar
3 tablespoons whole grain mustard
Table salt and ground black pepper
Directions
Pour off any fat from skillet in which pork was cooked. Add oil and heat skillet over medium heat until shimmering. Add onion and cook, stirring occasionally, until softened and beginning to brown, 3 to 4 minutes. Increase heat to medium-high and add broth; bring to simmer, scraping bottom of skillet with wooden spoon to loosen any browned naughty bits. Simmer until liquid is reduced to 1/3 cup, 3 to 4 minutes. Add syrup, vinegar, mustard, and any juices from resting meat and cook until thickened and reduced to 1 cup, 3 to 4 minutes longer. Adjust seasonings with salt and pepper, pour sauce over pork, and serve.